Rapid City Chiropractor Offers Natural Healing
Experience Family Care at Vital Life Chiropractic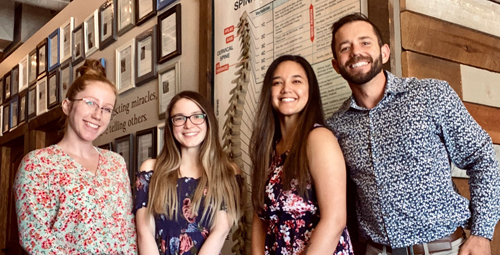 Rapid City chiropractor, Dr. Zak Alfstad, would like to welcome you to Vital Life Chiropractic. Dr. Zak offers natural healing solutions for the entire family. Chiropractic care is beneficial for people of all ages. A properly aligned spine allows the body to function at its peak level of wellness. Dr. Zak utilizes hands-on chiropractic adjustments to be able to provide gentle, effective care.
Chiropractic Works
People seek chiropractic care for many reasons. Perhaps you are looking for pain relief, wellness maintenance, or are tired of masking symptoms of disease with medications. Chiropractic care of the experienced and specific hands of Dr. Zak may help your body function at its full potential, free of nerve interferences caused by
subluxations. Why not give your body the opportunity for peak vitality?
Gonstead Chiropractic
Dr. Zak has had over 150 hours of conference training on the Gonstead chiropractic technique. He is the only Gonstead chiropractor in Rapid City and one of only a handful in the 5 state region. The goal of Gonstead chiropractic is to get you functioning better as quickly as possible. We use no adjunctive services to help speed or slow the process of what your body can naturally do for itself.
Dr. Zak's Specialties
Dr. Zak has a passion for providing natural healing options for children. It is easy to get into a cycle of prescription medications, pediatricians and specialists to treat what is ailing your child. Chiropractic care offers a natural solution for treating many symptoms and conditions.
Subluxations cause interferences with nervous system flow and your child's body is not able to fully function to its potential. We will care for your children as we do our own, with the best care possible.
Is your life full of vitality? It's time to contact our office and let Dr. Zak help you get your life back on a healthy track.
---
Dr. Zak Alfstad
Rapid City Chiropractor
(605) 791-3222